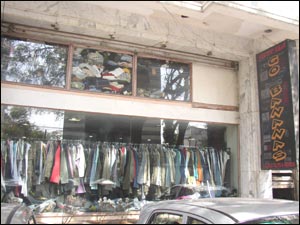 One of only 40 stores of its kind within a 5km radius, Go Bananas scores not for novelty or affordability or even accessibility. From the main road, it's a little easier to spot than the cellar, but this store is worth the trip, especially if you're looking for semi-formals that actually fit a non-skinny person. Crisp cotton shirts in whites and pastels are the USP here.

And they have all kinds, too - ruffled, prim, hippie, and superwoman. That last one is for the unique individual that can wear tie-up sleeves without looking like a teddy bear losing its stuffing. We're talking full-sleeved, but the store also has the teeny-bopper variety of garments, with sequins and glitter, and made of what feels like fish skin. Tubes, tanks, Britney Spears Jeans, denim jackets and peasant skirts make up the staple ware here.

Everything else is pretty much regular export-rejected stuff: sweatshirts, sporty tees, track pants and itsy-bitsy pieces of cloth held together by wisps of string and sheer faith. The trial-rooms are slightly larger than the average Godrej cupboard, and furnished with two mirrors. They're fair, considering you won't be spending eternity in there. Unless, of course, you're trying to get into an uncooperative pair of faux leather pants. That could take a while.