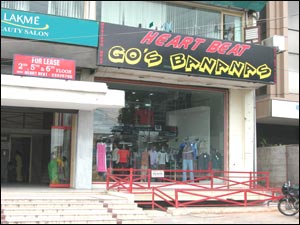 ometimes the sheer presence of all the clothes that one would expect to see in one place at the same time can be as uninterrupted and ridiculous as this paragraph. So the question you have to ask yourself is, is it okay to act inconspicuous in a suspect lineup at the police station. The answer is no. Therefore, no... this place isn't ridiculous.

With everything ranging from Jeans, shirts and jackets to skirts, tops and pants, Heart Beat - Go Bananas just might have everything. It's not really a brand-oriented place, but you'd still find clothes by Tommy Hilfiger, Diesel, Nautica and Adidas. There is an extensive range of clothes for men, with everything from jackets to Tees to shirts. There's even the customary party wear, and a whole load of MTV T-shirts.

For the ladies, there is a whole collection of wrap-around skirts, tops, shirts, night-suits and partywear. The pants range from Rs. 395 to Rs. 649, whereas the tops range from an indigent Rs. 99 to Rs. 350. There is also a decent collection of slacks and pedal-pushers in the range of Rs. 125 to Rs. 395.

Not wanting the children to start a union demanding equal space in clothes stores, this place has a good deal of covering up material for them too. There's a range of T-shirts starting at Rs. 95, and they even have jackets for the li'l ones.

So for the Kodak moment at a family shopping spree, a visit here just might do the trick.
LEAVE A COMMENT
fullhyd.com has 700,000+ monthly visits. Tell Hyderabad what you feel about Heart Beats - Go Bananas!