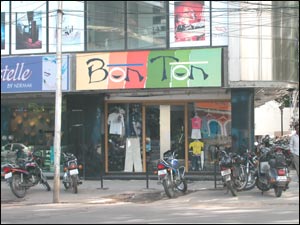 On the concrete sprinkle that is Road No 1 Banjara Hills, Bonton is a swinging store that could give the natives of the land another option to choose from. Established in 2002, this is home to a range of primarily ladies' party wear. That gets stamped into your mind as soon as the vibrant colors explode in your face as you step in for the first time.

Men's and children's garments are sold here, too, but it isn't the store's forte. Especially when you end up paying more money for Chintu's palm-sized shirt than 'his'. Quite contrary to this, the women's line is affordable, and has value-for-money, with the denims and Jeans starting at Rs. 1,000.

The shop's staff lends a helping hand while choosing from the 500-odd brands, including Diesel and H20. Bon Ton's Oriental appeal is justified through a closer examination of its material. Most of it comes across as Bangkok import!

In keeping with the area's Singularity, the store is also frequented by cine stars such as Gajala, Ramya Krishna and Sangeetha. The glamor quotient increased by a significant margin when their branch at Begumpet hosted a fashion show in May 2004.

Bon Ton has a regular clientele that it honors faithfully. Drop in at the store if you live in the vicinity.