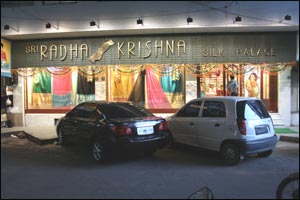 Now here is what I call a real new-generation sari store. One where the employees have been weaned off fables of customer kingliness, ever since childhood. What a luxury it is to shop in a place like this! Kinley water dispensers, Georgia coffee machines, and soft drinks on the house! And even the sari designs don't lag behind in modernism.

Sri Radhakrishna Silk Palace is special because the managers, Kailash and Rajesh, double up as designers who try avant-garde methods to juice up Kanchi pattus into unrecognizable but more-charming-than-ever gladrags. Proud as they are of their unconventional designs, they show you numerous of them. But I stopped looking once I saw a gorgeous sunset red and gold 'Airline sari' in Kanchi pattu. Incredible how a little creativity in design can make up for stones, beads and embroidery to create a dazzling and ornate look. This bridal sari for only Rs. 19,000 looks like it's on glitzy fire, and would, on anyday, look as striking as a dripping Rs. 50,000 stone-studded sari. The name is Airline because there is a plane-wing like pattern on the border. The expansive patterns in gold, katdada embroidery work and zardosi makes this sari striking, bold and screaming pretty.

If you sift through, you will find another ton of saris like this. All on Kanchi pattu or tissue, but not half as traditional to look at - Banarasi antique work on lemon yellow and sea green Kanchi, pure zari work on heavy tissue making it look like a golden cloak with maroon undertones. The price range here is between Rs. 5,000 and Rs. 50,000. There are Gadhwals, Banarasis, georgettes, chiffons and the other popular suspects as well, but Kanchi silks reign!

Visit this store and enjoy the classy and lazily spacious interiors while taking your pick of the 'fancy' saris that deserve their name like no other!
EVENTS AT SRI RADHAKRISHNA SILK PALACE
There are no events at Sri Radhakrishna Silk Palace scheduled currently.
LEAVE A COMMENT
fullhyd.com has 700,000+ monthly visits. Tell Hyderabad what you feel about Sri Radhakrishna Silk Palace!