Sri Rama 70mm (Bahadurpura)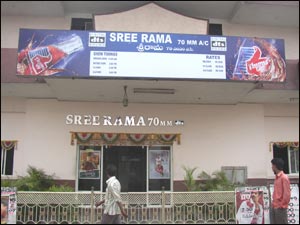 Its hitting silver jubilee in terms of existence does not necessarily qualify Sri Rama as a workable cinema hall for watching a movie. But all the years of acquaintance with cinema have put it in good stead when it comes to drawing crowds from the nearby areas of Rajendra Nagar, Puranapul, Shah-Ali-Banda and Bahadurpura. Although the more recently established Metro is pulling crowds with its reasonable prices and pleasant environs, Sri Rama is still the Sultan of the latest Tollywood flicks. Ask any passerby, and he will tell you why Sri Rama is better than Metro.

Above all, the theater has a very sylvan feel to it - feel free to spit around, try and beg the gate-keeper to let you in, talk endlessly on your mobile during the movie, light up a cigarette/beedi right in the hall whenever the screen fades out due to a power cut, and, of course, whistle ecstatically whenever the star appears onscreen - a few of the reasons why a visit to Sri Rama for any of the latest Telugu films is a must!

Apart from these, there is unlimited parking space. If you have the money, park it inside the indistinguishable theater campus, or park in front of any of the cafes around. The owners might stare at you, but it's okay - they are used to it.
SRI RAMA 70MM (BAHADURPURA) SNAPSHOT
Listed In

Address

Telephone

Distance

Air Conditioned

DolbyDTS

Tele-Booking

Year Started

Timings

Closed On

Prices

Rs. 45, Rs. 35, Rs. 25, Rs. 10

1 user says this is wrong.

Payment Option(s)

Other

Closest Bus Stop

Closest MMTS Station

Add New Field:
MOVIES AT SRI RAMA 70MM (BAHADURPURA)
There are no movies at Sri Rama 70mm (Bahadurpura) scheduled currently.
LEAVE A COMMENT
fullhyd.com has 700,000+ monthly visits. Tell Hyderabad what you feel about Sri Rama 70mm (Bahadurpura)!