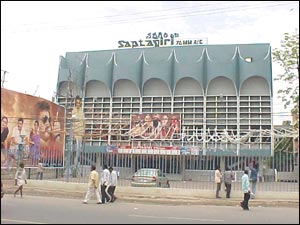 Metamorphosis is a wonderful phenomenon. It takes an ugly and creepy worm, and turns it into a beautiful butterfly. The raving basically is about the ability to change for the better. And moreover, our ability to boast of the fact that we also watch Animal Planet, apart from Baywatch.

That's exactly what has happened with most of the theaters in town. Glitzy renovations have made the halls in town amongst the best in the country. Saptagiri wasn't spared in this same process. Its owners made sure that it turned into one of the best.

Talking of owners, the hall is owned by Allu Arvind, the popular producer. He tapped every inch of potential the place had, and now it is loaded - a spacious hall, good sound, great picture quality, bucket seats and all that jazz. The only issue will be if you have your seat in the A row - there's an acute shortage of space in this row. The very second movie that it showed after the renovation was one of the biggest hits of the Telugu industry, 'Tagore', making a statement.

There can be times when the place is not all that clean, but for that, this one does just fine for a good movie experience.
MOVIES AT SAPTAGIRI (RTC X ROADS)
There are no movies at Saptagiri (RTC X Roads) scheduled currently.
LEAVE A COMMENT
fullhyd.com has 700,000+ monthly visits. Tell Hyderabad what you feel about Saptagiri (RTC X Roads)!