Sai Ranga 70mm (Miyapur)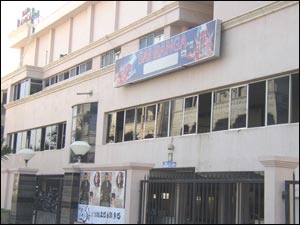 Location and ambience are important aspects of a cinema hall that most Hyderabadi theater owners tend to overlook. And its strengths in these areas are precisely what help Sai Ranga 70mm project a very distinctive flavor.

If you forget the approach road, which is considerably narrow, the amenities such as the spacious parking area, the enticing interiors and a state-of-the-art auditorium create a delightful concinnity to provide you with an enjoyable cinematic episode. Concealed between high-rise apartments in Miyapur, this cinema house makes customer satisfaction its top priority, and viewers seem to unanimously concur that it is indeed a worthwhile experience. The seats are comfy, covered with velvet-textured blue cushions. Combined with a powerful A/C and a formidable sound system, they create a nice escape from the real world.

The lobby has categorical smoking zones, providing a heavenly respite from having to save your nostrils from the cancerous smoke. The toilet seats are radiant and plushly-designed enough to be used as real chairs.

The added advantages at Sai Ranga - loads of black-ticketeers, cigarettes sold inside the theater, and a range of latest Hindi and Telugu flicks to choose from each week.
SAI RANGA 70MM (MIYAPUR) SNAPSHOT
Listed In

Address

Telephone

Email

Distance

Air Conditioned

Y

1 user says this is wrong.

DolbyDTS

Tele-Booking

Year Started

Timings

Closed On

Prices

Payment Option(s)

Closest Bus Stop

Closest MMTS Station

Add New Field:
MOVIES AT SAI RANGA 70MM (MIYAPUR)
There are no movies at Sai Ranga 70mm (Miyapur) scheduled currently.
LEAVE A COMMENT
fullhyd.com has 700,000+ monthly visits. Tell Hyderabad what you feel about Sai Ranga 70mm (Miyapur)!