Megha 70mm (Dilsukhnagar)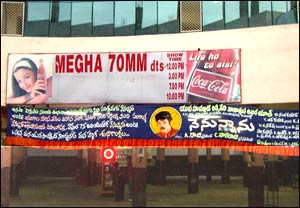 Life pulls out some of the strangest surprises on you when you're least expecting them. Take this for example. No, not the theater, the sentence. Who would've thought that you'd end-up reading unwanted philosophy in a theater profile write-up? And who would've thought that this theater, lying so innocently, would turn out to be one of the best in the city?

Yup. Megha is a meaty piece of modern work. One of the newest theaters on the block, Megha has incorporated modern architecture on a cramped up Dilsuknagar main road, to emerge a winner.

The plush airy lobbies are a perfect example of this. With sleek metallic seats in them, they look really inviting. The hall itself is also impressive. One of those bigger 'uns, the hall can accommodate a four-figure without much fuss. And all those people won't be disappointed.

Megha has been given the status of a main theater, which means that it has to bear the brunt of a flop, for it is noted as a standard cinema hall. The movies run here for as long as they can - generally Telugu movies.

The seats are the velvety-cushion kinds, with cup-holders and leg space. With a functional DTS and air-conditioning, the cinema experience is complete with a proper 70mm screen. Cleanliness is given special importance here. The patrons make it a point to try and dirty the premises because it looks clean and inviting.

The only issue with this theater is the crowd. If you can handle that, Megha is there to be revisited.
MEGHA 70MM (DILSUKHNAGAR) SNAPSHOT
Listed In

Address

beside bus stop, Dilsukhnagar, Dilsukhnagar, Hyderabad - 500036

3 users say this is wrong.

Telephone

Distance

Seating Capacity

Air Conditioned

DolbyDTS

Tele-Booking

Year Started

Timings

Closed On

Prices

Payment Option(s)

Closest Bus Stop

Closest MMTS Station

Add New Field:
MOVIES AT MEGHA 70MM (DILSUKHNAGAR)
There are no movies at Megha 70mm (Dilsukhnagar) scheduled currently.
LEAVE A COMMENT
fullhyd.com has 700,000+ monthly visits. Tell Hyderabad what you feel about Megha 70mm (Dilsukhnagar)!