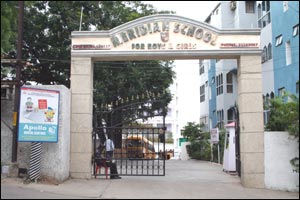 Meridian School visibly aims to be as modern as possible in innumerable ways. For starters, learning through the aid of computers is strongly encouraged here. It also has quite a number of amenities on offer for the children, such as playgrounds, yoga, hobby club and indoor games.

The audio-visual aids that are used during classes need special mention. The teachers use colorful posters, 35mm slides, OHP transparencies and audio & video cassettes to lend a more exciting touch to teaching. Another thing that the teachers take great pride in is the size of the classroom. Unlike most schools across the city, Meridian has classes consisting of no more than 25 students in each, since it believes that the students need space.

As for the aesthetic bent of mind, the students have dance, music and drama classes. They can learn Western, Carnatic and Hindustani music, and the hobby center encourages some rare interests such as stamp and coin collections. To top this yummy curriculum, there are special classes conducted for environmental awareness.

Games? Exercise? The school has a small health club where the students are taught aerobics and gymnastics. There are quite a lot of indoor games, though - table tennis, carroms, chess, scrabble, monopoly etc. are at the students' disposal. The school intends on exercising the logical thinking ability in its students.

On inquiring, of course, you get all the idealistic (read: expected) answers, with descriptions of the school where words such as 'active learning' and 'interaction' are sprinkled around. But Meridian has sincerely tried to achieve the lofty standards that all schools aim for ...and has succeeded quite a bit. The children particularly like the school, which is mostly a rarity nowadays.

With comprehensive extra-curricular activities and good teaching methods, Meridian has strongly made its point about quality education.
EVENTS AT MERIDIAN SCHOOL
There are no events at Meridian School scheduled currently.