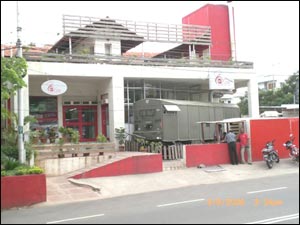 The Scene
Nestled in the heart of Banjara Hills, with a warm red facade and a seemingly incongruous mobile army van at its doorstep (that too a Swiss one), the Ofen is a popular bakery celebrated for having the best breads in town.

Its popularity is attested by the long line of cars outside its doors, their owners having stepped in for a bite fresh from the oven. The oven, indeed, is what Ofen means, and is all about. A marvel of Swiss engineering, the eco-friendly mobile oven produces baked goods of a quality and variety randomly found in Europe, but utterly unique here.

If you're interested, you could also get them to show you around the insides of the oven. No freaky paranoia over intellectual property rights infringement here. Just a sober and quiet pride. The oven uses just one bag of charcoal per day. And boy, if you're thinking that they don't put it to use, you can think again. With just 25 kilos of coal in its belly, it can churn out breads and other suchlikes, which have been baked at 200C. And mark you, that churn is all through the day. That's the marvel of Swiss engineering that we are talking about.

The Food
Their celebrity for their baked goods is well-earned as each item has been carefully thought out. Guess by who? We asked, and the answer was... a food technologist! And it's planned to ensure a quality, healthy treat.

For the health-conscious or even the finicky gourmet, the selection of breads available is truly eye-opening. From the Whole Wheat, Multi-Grain, Rye and Farmhouse Loaves to the French Baguettes, Focacias and Gogel Hopfs, the choice is wide enough to keep you coming back for more (or never again, if you know that picking and choosing was always your weak point). And did we talk of the Baguettes which were just yummm? Crispy on the outside, soft on the inside, they tasted absolutely nothing like the "sandwich bread" available in departmental stores.

The breads are low in gluten (a sticky protein substance) and egg-free where specified. Should you choose to play the role of host/hostess and wish to impress, you could also avail yourself of the new pre-baked service (75% baked), and serve their delectable baguettes from the comfort of your own kitchen.

While the breads are certainly stars in their own right, the bakerie has not forgotten the old adage that man cannot live by bread alone. Their extensive menu featuring many pastas, salads, grills and sandwiches reflects this thought. The Chicken Pepper Steak and the Penne Chicken are classic favorites. However, some of the sandwiches which are supposed to be of spring vegetables lack in imagination.

In a city largely inhospitable to the early bird, it is refreshing to find a place that opens its doors for breakfast at 8am, and has a continental breakfast menu including waffles and pancakes, eggs to order, omelets (masala/cheese/spinach/mushroom/Spanish/chicken), toast, fried potatoes served with sausage/salami/mushroom, and fruit juices.

You can however run up Rs. 150 for a toast + omelet + juice, and there are breakfast buffets in reputed hotels that offer unlimited food with all the above for that price, so yes, it's expensive. In general, the prices here can be between 3 and 5 times as high as your neighbourhood bakery (a Black Forest pastry costs Rs. 65 as we write this in Mar 2008).

The desserts at Ofen deserve mention. The roster has a lot of sins - Devil's Food Cake, Eggless Chocolate Mousee, Creme Brulee, Cinnamon Cream Pie, Panacotta, Hot Chocolate Pudding... - (apart from the standard cakes and pastries) and they are all priced around Rs. 100. That's a small price for a reminder that you have only one life. If you've seen them in the casing and did not feel anything, please share the secret with fellow locals.

Finally, there are the teas. It's going to be a leap if you are used to drinking it at a favorite café for Rs. 5, but Ofen serves an array of Nilgiri, Darjeeling and Assam teas for prices ranging from Rs. 40 to Rs. 130. There are white teas and green teas, and there are the Oolong varieties. Only, it seems unfair to beer to drink tea for Rs. 130.

The atmosphere here is a feast for the senses, as you are surrounded by the warm smell of baking bread or the fruity smell of a hookah. The conversation of friends, with coffee and desserts that appeal to the eye and the palate, makes Ofen the quintessential international bistro.

The Verdict
For the traveler who is yearning for a taste of home, or the local who is searching for a taste of Europe, Ofen is the place to go.