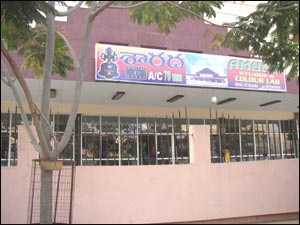 Surrounded by multi-storeyed apartments on three sides, Sharada is difficult to spot in the bylanes of A S Rao Nagar Colony. And as a newcomer to the city, you will be awestruck at the peculiarities that Hyderabad nests. Sharada is an apt example.

Before Sharada took shape in 1992, there was a dilapidated auditorium that existed. "Gundamma Katha", "Missamma" and "Maya Bazaar" are some of the numerous classic Telugu films screened at Sharada to mark its debut. To catch up with the times and attract more crowds, Sharada soon started screening contemporary movies. Their first new age Telugu flick was "Gang Leader" - starring Tollywood's mega star Chiranjeevi.

The success of the movie meant the cash registers ringing, and from then on, Sharada has been predominantly screening the latest Telugu films. But there is hope for fans awaiting the return of classic Telugu cinema, as once every 6 months Sharada revives its collection of the golden oldies for the ardent viewers (for a few Telugu film buffs I know, 6 months is hardly a wait). Believe it or not, these classics run to packed houses even now.

The theater is indigently presented, with hardly any moolah spent on interior decor of any sort (of course, for cinephiles, the screen is what matters). The seats just suffice in holding your backside for just about the right time. The loos are passable, but if you stay for long, you might pass away. The parking space is chunky - enough for cars, bikes and all kinds of mechanized and free wheelers.

Drop in for some riveting Telugu cinema, but just once in 6 months.
LEAVE A COMMENT
fullhyd.com has 700,000+ monthly visits. Tell Hyderabad what you feel about Sharada 70mm (A S Rao Nagar)!