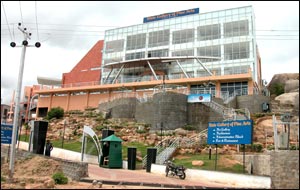 Have you ever felt like making the entire city and its pop-in-law go "hmm" and "awww" at your 'masterpieces' with gusto? Well, for Rs. 350 a day, you could either order a pizza and master it to pieces, or you could rent an art gallery and present your paintings, sculptures or terracotta potteries to the world. Only, you would now have to paint, sculpt or pot those very things.

Interested in promoting fine art rather than showcasing the best of it, the Chitramayee stands out among its peers. It's got 10 galleries. One auditorium. One conference room. One restaurant. Even 3 guest rooms for incoming artists. And hectares of parking.

When compared with say a Jehangir Art Gallery or other contemporary galleries within the city, Chitramayee looks like an orange set against an orangutan, much less like an orange against its usual nemesis, the Himalayan apple. That's because this gallery is the newest kid on the block. The architects must have tried to fuse both history and future into the building. Old rock formations left in the middle of here and there, glass elevators, lots of false ceiling, and futuristic-looking rain shelteRs. in the balcony.

However, being a non profit state-run organization does take its toll. Cement patchwork can be seen in the cracking rocks. The glass-backed elevator inside the building looks out at some more glass walls. The false ceiling looks very much the part, hanging from its alluminium supports. And so do the futuristic shelters, which now look as if they've been part of some alien invasion. (Of course, "all of this is under repair." Gita Reddy's Department of Youth Advancement, Tourism and Culture is in charge.)

However, this is all hearsay. What the place attempts, it achieves, which is namely to promote art. For no charge at all, you could get a taste of what the upcoming artists in Andhra have to offer. Fresh art students find it easy to display their wares here, and you could buy their affordable pieces for Rs. 2,000. You would also get to view and buy works of artists who have crossed the initial stages, and are now churning out paintings worth Rs. 6,000 to Rs. 12,000.

And if you're looking at reasonably denting your pocket, and names like T Vaikuntam, Surya Prakash, Laxma Goud, Krishna Reddy or Kavita Deauskar mean anything to you, you could come here and sign an easy cheque for anything between Rs. 50,000 and Rs. 2,00,000. However, if you want something that costs 7 zeros after the digit, you need to look elsewhere.

You could also flavor national and international exhibitions hosted by governments interesting in promoting their own native art works. Being a state-owned gallery with loads of space, Chitramayee becomes the preferred destination for such shows. From art work done by Australian Aborigines to the Triennale Painting Exhibition, your visit here may not be fruitless.

Its proximity to Cyberabad has indeed resulted in the gallery adopting some technology of its own. It has acquired a messaging software, with which it can SMS program details to all the people who have signed up. You could stay in the loop with the familiar beep beep coming in as a handy reckoner. Or come back to fullhyd.com.

Chitramayee conducts painting classes, and two certified MFA (Master of Fine Arts) graduates do the coaching. Classes are held Tuesday to Friday, between 4pm and 6pm. On Saturday it's between 3 pm and 5pm, while on Sunday, classes are from 10 to noon. Registration costs Rs. 500, and then there is the monthly fee, which is also Rs. 500. Paint maker Camel sells its paints and brushes here at discounted rates.

The best things in life may or may not be free, but if you're seriously interested in sampling local art and visiting a gallery to see more than just a signature, Chitramayee might not be a bad idea on an odd day.