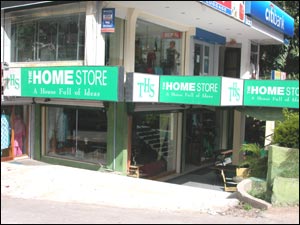 That cosy name and an inviting breakfast table at the entrance about sums up the charm of this store. The Home Store is full of all those little and not-so-little things you never realised you needed around the house.

THS is one of a chain of 30 stores in the country. You'll find contemporary designs in lamp shades, clocks, wastepaper baskets, cutlery, china, nifty table lamps of glass and steel, candles, candle stands, bedsheets, mirrors, ashtrays and flower vases. A futuristic range of Settler metal clocks deserves a special mention here.

The prices here are somewhere between affordable and uncomfortably high. An elegant cast whitemetal flowervase retails for Rs. 1,999, and a 20-piece bed-linen set, for Rs. 17,499. The store specialises in furniture packages for any area of the house, including the patio and garden.

THS's redeemable vouchers in denominations of Rs. 300, Rs. 500 and Rs. 1,000 make for good gifts. Everything here is guaranteed against manufacturing defects.

Like all high-quality medium-affordability stores, THS is the perfect place to visit immediately after salary day or when stuck for gift ideas.