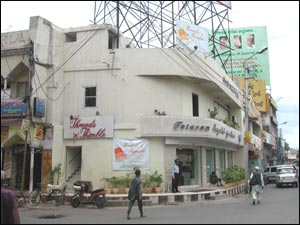 Threads and Thimble (T & T) is a fancy name for a lot of hot air and grand splashes of color. The clothes sold here are neither exclusive nor worth their price, which means they are meant for women with rich husbands who just don't know what to do with all that money.

Walk into the small store, and you'll promptly be hit by the chic boutique look, the soft lighting and the deep-as-lush-grass carpet. All these are meant to make you feel that you are shopping in a sophisticated environment, but to those of us who know better, these are simply the warning signs of extravagant price tags.

And sure enough, when you glance at the numbers, everything seems to have a few digits extra to the right hand side. While you are wondering what hit you, the helpful and courteous staff will reel off the prices of their entire (and limited) range of dress material. It's high-end fashion, with emphasis on sequins and glitter at the expense of variety and affordability.

To be fair, though, the stuff they have is of good quality, and the designs, though few, are beautiful. T & T stocks only dress material, so if you're looking for other clothing, head elsewhere. Or, just head elsewhere anyway, and save yourself a nasty shock.
EVENTS AT THREADS AND THIMBLE
There are no events at Threads And Thimble scheduled currently.