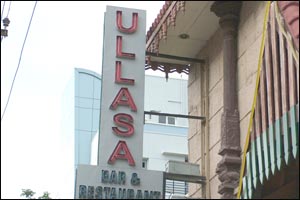 The Scene
More than a roof-top terrace restaurant, Ullasa, the multi-cuisine restaurant-cum-bar of the hotel Athithi Park Inn, is a homely verandah, replete with a centrally-located fountain and chiks covering the numerous windows overlooking Ameerpet's exponentially growing construction biz.

Satiatedly seated at the wooden chairs, you can chose to take a view of the sand-peppered Dharam-Karam Road, or turn inwards towards the homely but absolutely artificial coconut trees, carved pillars and other beautifully decorated diners' tables. In addition to this partly open-air affair, you can take a seat in the A/C section, or at the terrace tables.

The Food
Serving from cuisines as diverse as Continental, Mexican, Chinese, Japanese and Indian, Ullasa is equipped with all the ingredients to fire up your tastebuds. Starting with the regular soups and Tandoori snacks, you can order Chicken Kandhari, which is small pieces of the bird dipped in as-yet-unidentified yet delicious gravy. Vegetable Chatpat, the restaurant's speciality, is an unsuccessful attempt at mincing the vegetables, mostly carrots, and presenting a blended picture.

If your adventurous streak peaks at the lunch hour, you can order the Japanese Steak, which is a chicken leg predominantly dipped in thick egg sauce. And best downed with Monk Ullasa, a mocktail of orange juice and lemon.

The Verdict
Ullasa is a good family, traditional outing, especially if you don't mind their Athithi Devo Bhava and the less for more - less-taste-for-more-money – policies.