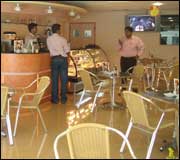 The Scene
Laid-back and comfortable, Caf One will help you relax to the max in an instant. The dcor is all pastel lit with soft lamps, while sunshine pours in generously from the French windows. Nip in for a quick coffee, and soon you'll wish you had more time to try out the surprisingly elaborate continental menu.

The Food
Coffee will be the last thing on your mind once you go through the food card. Certain dishes like Beaten Good (fluffy omelet stuffed with herbed steamed chicken), the Tuscan Bruschetta (salsa and cheese served on French bread) and even the spiced, extra-good French fries are done like they are nowhere else.

Do also try the pastas. Unlike most other places where the pasta is drowned in heavy sauce, Caf One specializes in subtle combinations, like the divine olive oil with salsa. The Aglio Olio is a case in point - fussilli or penne tossed with roasted chicken and peppers, marinated in olive oil. Even the Chicken Parmigiana and a supremely satisfying Vegetable Stack are great for the main course.

The burgers (Spud Buddy, Kentucky Fried Chicken), club sandwiches, salads and soups (they even have the Minestrone) make for great snacks. Avoid the Chilli-Cheese Toast; it's not all it's cracked up to be.

Caf One also does some nice drinks, like the gingery Lemon Quencher. The Alfogato - a scoop of vanilla melting slowing in a cup of expresso - is perfect for afters. The dessert tray has pastries and brownies, but nothing like the Banana Slide, which is a banana split and fried, and served with ice cream.

The Verdict
Not only is it excellent, the food here is also priced more or less reasonably. For fine cuisine, that is. You might feel the pinch if you're expecting caf rates, but dinner for two at around Rs. 250 isn't bad at all. Not many places in town (diners included) can match up to this seemingly modest little caf.