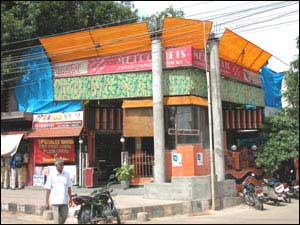 The Scene
Mostly a guy joint, Dhuadhar looks like an Irani caf at first glance. Women prefer to grab a bite in the snacks section. But girls really shouldn't have any hassles if they get here early enough in the evening, before the male brigade descends. And by early evening, we mean anytime before 10pm.

The Food
In the snacks section anything from chicken puff to samosa goes, although black tea is the big seller and is gulped down by the cup, like tequila shots. The 'restaurant' section is grimy, but functional, and the trees around make it an almost cozy place. Except for the bum-unfriendly ice-cold iron benches.

You can't go wrong with roti and any curry here, because all the gravies taste more or less the same. They probably are all the same. Not much variety here, but try the Dum Chicken - spicy, oily and includes one boiled egg - or the Butter Paneer, with your dry, extra-kadak tandoori roti.

The Verdict
If you think this is the place for budget grub, you'd be surprised. Dhuadhar's rates are close enough to those of other regular restaurants, even though the overheads here are almost zero. This one is for those times when you gotta have tandoori and your wallet can't stomach 'designer dhabas'.
EVENTS AT DHUADHAR RESTAURANT
There are no events at Dhuadhar Restaurant scheduled currently.