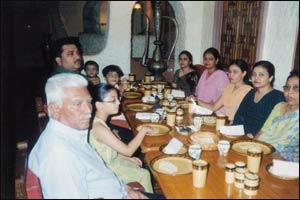 The Scene
If the RTA office had had a pact with the Asifabad restaurant owners, it couldn't have done any better. The hordes of stranded commuters at the RTA, claiming responsibility to bending a variety of traffic rules, are bound to get hungry and voyeur for food. And a string of eateries, located strategically, welcome the odd biker who's waiting to retrieve his license, or the now-sober driver claiming his money back from the policewaala.

4 Seasons does good staying where it is. A clientele of college students and phoren guests trying out its highly differentiated menu - from Mughlai to Lebanese, and from Indian to Arabic - patronizes it without being judgemental. An essential quality that you possess when at college or when just beginning to dream big, is your absolute lack of concern for cleanliness of tables, dirty linen or discourtesy. A fact 4 Seasons uses to its advantage.

The Food
No 5-senses-jamming affair, the food at this roadside eatery is quite good. 4 Seasons has a choice of Indian, Tandoori, Mughlai, Chinese and Lebanese cuisine. The Lebanese Platter is not exactly palatable for people who have had a prior encounter with this desert affair, but for neo-starters and the adventurous types, it's a good diversion. The platter contains Mattalaba, which is baigan ka bhartha prepared in olive oil. You have an option to order the individual Lebanese items separately or as a part of the platter, which is priced around Rs. 600.

Arabic Seekh Kebabs are luscious, juicy chunks of meat, which will melt in your mouth. Indian Sabzi Jalfarezi and Dal Makhani are best tasted with a naan, and a lime-mint drink, which leaves a soothing after sensation down your palate.

The Verdict
If food is the basic concern of all your existence, you won't mind stripping your purse naked at this place. But if hygiene and good service are - there are about 6 other restaurants in the same complex, waiting for you.