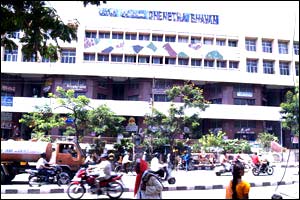 Started as a venture by the Development Commissioner For Handlooms to promote Indian handloom textiles, Chenetha Bhavan has four 1,088 sq. ft. octagonal showrooms on two of its floors. APCO and Abhinava of Andhra Pradesh, UPICA of Uttar Pradesh, Priyadarshini of Karnataka and Co-optex of Tamil Nadu are the ones that remain open now. Previously, Mriganayani of Madhya Pradesh and Rajtex of Rajasthan and Haryana weavers also had a presence here. Now they are closed.

The building looks a little dilapidated and poorly maintained. But nowhere else in Hyderabad will you find the kind of prices and quality of clothes as in here, since it is a Government of India undertaking and has fairly rigid quality control procedures and policies. Each of these showrooms will offer you fabrics at at least 10% lesser than the market price.

APCO

Set up in 1976 to promote the handloom and weaving cottage industry of Andhra Pradesh, the Andhra Pradesh State Handloom Weavers' Society provides a safe sanctuary to all weavers from bushwhack by textile mills. The Andhra Pradesh Co-operative Handloom House is one of the many outlets of this society of weavers (there are 14 in the city as we write this in 2005). It has been specifically set up to target the markets abroad with its range of handwoven textiles, resplendent in their many hues and shades.

APCO sells dress material, furnishings, readymade shirts, lungis and salwar kameezes, as well as some imaginative little products like bread baskets, tea cozies, fruit baskets, mittens and hot pads made with A P silk and cotton handlooms. The range is huge and fascinating, and you can custom-order products as well as fabric designs at no extra charge.

APCO boasts centralized quality control for its warehouses. Yarn and fabric are sourced directly from weavers and processed using strict technical specifications to meet color fastness and environmental safety requirements. You will get practically everything Andhra here, from Pochampally ikkats to Mangalgiri fabrics. They are priced between Rs. 20 and Rs. 200 per meter. The dhurries are fun and range Kalamkari, interlock work (meaning the weaving shutters are changed as one pattern changes to another) and Jacquards. These are priced between Rs. 20 to Rs. 24 per sq. ft.

A pretty dark green salwar kameez stitched with Mangalgiri cotton with a zari border costs Rs. 760. You can of course order your own design, for stitching charges of Rs. 80.

The best part about APCO is that it offers a festive discount (upto 20%) for every festival, which basically means that there is a discount running almost anytime of the year.

Abhinava

Abhinava stocks saris from Andhra. This would mean Pochampally, Gadwal, Venkatgiri, Mangalgiri and so forth.

Mangalgiri cottons look promising: they are the traditional 7-yard, pure and handmade zari-bordered saris. They field a crisp look and no-nonsense patterns, but the zari border gives them a slight regal touch. A blue cotton sari with a beige-blue double color border is traditional, and sensible at Rs. 2,000.

Then there are mercerized Pochampally cottons for the soft feel and look. Gadwals range between Rs. 1,600 and Rs. 7,000. Finally, there are the Dharmavarams. These are always pure silk & zari saris, crafted for weddings and special occasions.

Check out the cotton towels for Rs. 75. Probably best for travel use, they come mostly in checks and stripes. Lungis made in Rajamundry and Cuddapah areas cost between Rs. 185 and Rs. 200. And thick ikkat double bedsheets with borders attract at Rs. 220.

This is by no means an exhaustive list - for a better pointer to the product range, think all things Andhra!

Priyadarshini

Started in 1992, Priyadarshini is from Karnataka and sells dress material, chunnis, furnishings, carpets, bedsheets and readymade shirts, lungis and salwar kameezes.

The highlights: Printed silk saris priced between Rs. 1,300 and Rs. 2,500. These fine Indian airline stewardess prints look suitable for office wear. Then there are Chintamani silks with and without butis. Pure Kallur silks with zari borders are priced between Rs. 1,800 and Rs. 5,000.

Gadag bedsheets are thick cotton ones with simplistic checks and squares, suitable for frequent use and washings. They are inexpensive at Rs. 350 for a double bedsheet. Panhatti cotton saris usually come in striped patterns at Rs. 325. Udupi saris are similar, too, and come with checks and tassles. Then there are Priya saris with rubber prints and a smattering of glitter on them, priced between Rs. 245 and Rs. 320. Most of these are very suitable for daily use since they are very light and gauze-like in texture, and come in basic designs.

UPICA

The UPICA showroom opened in Chenetha Bhavan in 1989. It stores saris, fabrics for garments, and furnishings. They have a huge stock of Aligarh carpets in cotton, velvet and silk. The prices range from Rs. 50 to Rs. 5,000. The cotton and silk carpets come in simple patterns and rich colors to give a plush look. The velvet carpets on the other hand come in intricate designs and equally rich colors: blue, red, orange etc. If you can't afford a Kashmiri, go for these instead.

Silk curtains from Ghaziabad are heavy, and come in a huge variety of shades. The prices are around Rs. 250 per meter. Banarasi silk saris range between Rs. 1,000 and Rs. 4,000.

Co-Optex

Co-optex was opened in 1992 in Chenetha Bhavan. They stock saris (Rs. 300 to Rs. 5,000), bedsheets (Rs. 200 to Rs. 500), towels (Rs. 22 to Rs. 97), lungis (Rs. 73 to Rs. 175) and furnishings (Rs. 50 to Rs. 300).

The bed-sheets from Solapur are thick, and woven from pure cotton. Carpets with multi-colored stripes are available for Rs. 2,500. You can find crisp Kanchi cotton saris, suitable for rough use or homewear. Then there are pure silk/zari saris suitable for weddings etc.

You can find interesting curtains with prints of Jesus, Vigneshwara etc. for only Rs. 25. The sari section of Co-optex has expensive silks such as Kanjivaram.