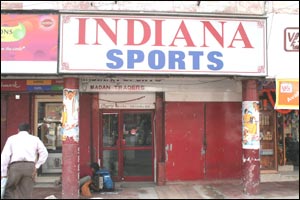 Stuck among the newer sports stores in Hyderabad, Indiana Sports, located on M G Road, will always have its importance as one of the oldest sports supply stores in Hyderabad. This is a one-stop shop to pick up supplies for literally every game played in the city. Starting from outdoor games like cricket, hockey and football, all the way to indoor games like table tennis, badminton and basketball. Like we at fullhyd.com say, lots of stock raises your stock.

If you happen to have nagging parents who always obsess about how you could get hurt while playing cricket or football, then enlighten them about the existence of the protective equipment that is available here. Most of the equipment is decently priced. The price tags do tend to change with the brand that you are purchasing. You will get cricket bats for dirt-cheap rates, and also in a range where you'd wonder how much of it is gold - some of them go all the way to Rs. 8,000.

Indiana Sports is an excellent place to shop for all sport supplies. Since it is located on M G Road, though, parking could be a problem.