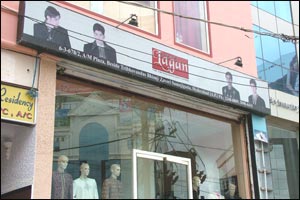 The huge success of the Denis Parker brand led to the creation of the Lagan & Divan Sahib Stores in all metros. These can be described as "superlative showrooms for the trendy & the traditional, the upmarket and the upper-crust," says the company brochure. The validation of this claim is a wide, well-displayed range of formal Indian and Western Wear. Beyond party wear designer suits and formal attire, the Jamewar chain also stocks the "Ultimate" in ethnic wear kurta - pajamas, sherwanis, angarakhas, imported shirts, and formal and semi-formal trousers. All crafted from exclusive fabrics hand-picked from Japanese & Italian manufacturers.

Though the young man behind the counter is reluctant to give turnover figures, he happily informs you that prices range from a modest Rs. 1,200 to Rs. 2,00,000. And that minute attention to quality got them a trophy at the 41st National Garment Fair. And that they got John Abraham to walk the ramp for them, which tells its own story - as does the exquisite silver, black & red creation on the back cover of the brochure which you would love to wear.

Another thing that inspired confidence in me in shopping at Lagan was the assured, enthusiastic air of the lad manning the counter who wasn't at all flapped by my probing, or the apparent lack of immediate customers. He told me that besides several curious walk-ins, they get a lot of clients from faraway places who know the brand name & have specific selections in mind. You can also get what you want custom-made here.

All in all, Lagan is definitely worth a visit if you are getting married in the near future, or generally want to feel like you are.