Suvidha Boutique And Pearls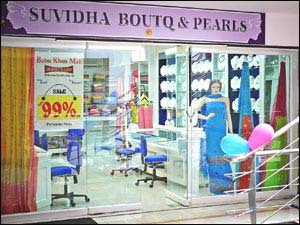 Suvidha isn't your average modern clothes store - it has dim lights, no jazzed-up in-store ambience, and does not have over-eager service staff. But if the prices are anything to go by, their dress material drops straight from heaven.

Very little in this store can be called subtle, since the vast majority of offerings are in a blindingly bright shade of pink or green or, worse, yellow. Saris are also sold here, at the same sort of shock-inspiring prices. Pearl jewelry occupies some display space, but few pieces are attractive. And the service is mediocre.
SUVIDHA BOUTIQUE AND PEARLS SNAPSHOT
Listed In

Address

210, Babukhan Mall, Somajiguda, Hyderabad - 500082

Telephone

Distance

Sub-Categories

Timings

Closed On

Payment Option(s)

Closest Bus Stop

Closest MMTS Station

Add New Field:
EVENTS AT SUVIDHA BOUTIQUE AND PEARLS
There are no events at Suvidha Boutique And Pearls scheduled currently.
LEAVE A COMMENT
fullhyd.com has 700,000+ monthly visits. Tell Hyderabad what you feel about Suvidha Boutique And Pearls!