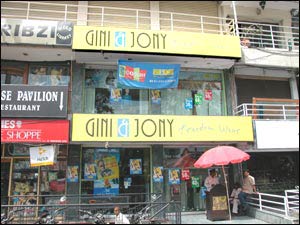 The resemblance to the classic Mehmood movie does not stop at the title. It goes a little beyond, in that both give you a sense of satisfaction.

An exclusive retail outlet of the clothing company with the same name, Gini & Jony opened in 2002. The staff claim to have any item of clothing/accessories that a 6-month to a 16-year-old body will ever need. Actually, they also claim to be the number one brand in kidswear. And they are willing to take you up on that challenge.

Why should they not? They have Variety (yes, with a capital V), the backing of a brand known for quality, air-conditioning that works, and enough salesman-skills to stick bubblegum on your face and make you feel good about it. One of their many SPs (that's USP without the U) is their being open 365 days a year. They stock everything - clothes, caps, footwear, belts, goggles...

Add to that seasonal discounts, and you have a haven for kids who have a mind of their own. Yes, this clearly is a place for the little people who don't let mummy/daddy decide what fashion statement their ensemble makes.