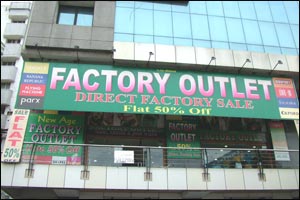 Take along a magnifying glass when you go to this shop, for that is what it would take to find its name in the billboard. A huge sign says 'Factory Outlet', and gives you so many brands under it, it makes you dizzy. But believe me when I tell you, it took me a whole day of searching, and finally a few phone calls in desperation, to find this shop, just because its name wasn't visible.

New Age tries to be different, using the same old-fashioned methods. A curt but seemingly helpful doorman points out as you enter: "Gents on top sir, ladies below". You take his word for it, and dutifully climb the stairs. There are clothes everywhere and of every type, from formals and Jeans to skirts and midis for the ladies, precariously positioned on any available surface – doesn't need to be flat either. You have clothes hung here, stacked there, and mostly drawn and quartered all over the place. Clothes stuffed so close, you sometimes feel sorry for them. It takes the whole fun out of shopping, and makes it poignantly mercenary in a way.

The USP of this place – and they don't let you forget it – is that they are a discount store. Every piece here has some sort of discount or the other on it, from 20% all the way to 50% on a few. And with brands like Levi's, New Port, Parx, Pan America etc., it has some pretty good variety. But the quality is scary at best, and one step away from 'put out to pasture' at worst.