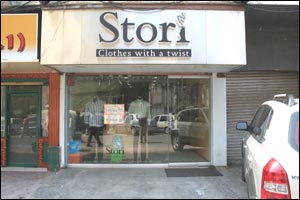 Stori advertises itself as "Clothes with a twist", though the twist is not quite visible. It's just like any other men's branded store, and doesn't really offer anything out of the ordinary. In spite of the limited array of shirts available, they are all very carefully selected, and make a hard time for the shopper. The salesmen are very friendly, and your buy will be a worth it even if you're a 7-year-old shopping for your dad's birthday. The trial room looks quite out of place in this very classy store, shaped like a stuffy, red telephone booth.

Office wear, party wear, yellow wear with palm trees on it - all 100% cotton as the salesman announces - this store has 'em all. Though not priced very affordably, with tags hovering between Rs. 575 and Rs. 1,275, the store is definitely worth a peek. Trousers, flat fronts to corduroys are comfortable, and carry price-tags that sound more reasonable, Rs. 950 upwards.

Though not very different, Stori is a very pleasant store that offers an amiable shopping experience.