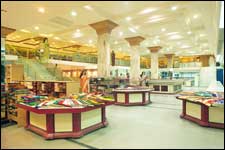 The story of the Telugu bride begins here. This is where she will weave out her exciting shopping adventures. This is where, she will tell you, she bought half her sari wardrobe. This is where she will shop for her daughter. This is the palace of saris - Chandana Brothers.

You will strongly vouch for Chandana Brothers' huge sari collection once you lay your eyes on how 6 yards of textile can so marvelously be worked upon. With very difficult and intricate zari work, the silk saris (Kanjeevaram, Pochampally and Benares) bewitch you with their sophistication and their beauty. Starting as low as Rs. 150, the saris can go on until Rs. 60,000. Of course, they have mostly mid-range prices for most of their saris.

Once you've managed to fill yourself up with the finest of craftsmanship on saris, you can move on to the exquisite jewelry section. With a huge room and sparkling gold, what more can a woman ask for? Chandana Brothers sells 91.6KDM ornaments, and also has a range of silvers and precious stones. All these is BIS certified Hallmark jewellery. The making charges are quite low, which attracts most customers to shop here.

To make the men feel equally welcome (and less jealous) there are some nice trousers, shirts and material for them. The brands are OCM, Reid & Taylor, Mafatlal, Bombay Dyeing and Raymonds.

Unfortunately (for the men), this is a true to woman shopping-land. It doesn't stop at saris and gold. It goes on to dress material, readymade outfits (skirts, tops, salwar-kurthas) and matching blouses for the saris. All of these can range from Rs. 50 to Rs. 4,000.

Almost the only place to be for those who want to buy excellent saris and gold.
EVENTS AT CHANDANA BROTHERS (PATNY)
There are no events at Chandana Brothers (Patny) scheduled currently.
LEAVE A COMMENT
fullhyd.com has 700,000+ monthly visits. Tell Hyderabad what you feel about Chandana Brothers (Patny)!