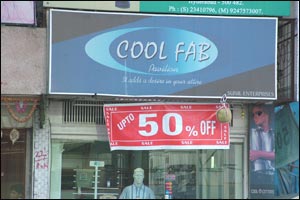 Situated in the hustle and bustle of Punjagutta, Cool Cottons confidently faces its customers with its array of men's cotton clothing. Ranging from Rs. 300 upwards, the shirts are of good quality and quite durable. What's striking is that in such a small store there is a decent selection of shirts and trousers to choose from. From formals to Jeans, they have their brand of pants, too, in various colors.

An area where this shop is lacking, literally, is in the staff. There is only one man who sits near the cash counter, and seems rather introspective about stepping out of his morning, afternoon and evening slumber. The question as to whether the Colgate toothpaste and toothbrush ads are reaching the needy public also arises in your mind. But before I brace you with any such important pondering, I would suggest you, ummm, brush up on your Hindi. Talking in the global language will take you nowhere over here.

All obstacles scaled, this place is still definitely worth a visit, especially during summers. But then again, isn't it always so in Hyderabad?