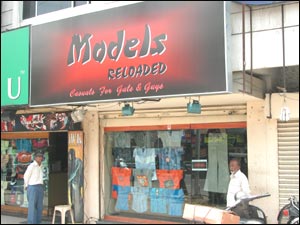 So it's your girlfriend's birthday, and you walk into Models Reloaded to find the most amazing sweater for her. You turn around and look at the sluggish attendant for a larger size, and he reluctantly shakes his head, and that's when you wish your girlfriend were a supermodel with statistics that would blow your head off. Too bad, the store doesn't have a lot of sizes of the sweater you liked.

There is not much out of the ordinary at Models Reloaded to really shop for. The range for women includes skirts, Jeans and trousers, all "designer wear". Priced around Rs. 600 to Rs. 800, most skirts are denim, and a few are cotton with Kalamkari prints and bead work. Kurtis and formal shirts here are absolute must-buys, if you're considering proclaiming to the world that you're blind.

This store is a goldmine for guys who are looking for casual clothes. Right from T-shirts that blare witty comments to some with pictures of Jimi Hendrix, these shirts carry a price tag of between Rs. 195 and Rs. 300. Though the formal shirts are not worth much of a look, the party wear here deserve a dekko.

Models Reloaded is typically like any other store for teen-clothing - hip, and makes every out-of-shape teen feel out-of-place.
EVENTS AT MODELS RELOADED
There are no events at Models Reloaded scheduled currently.