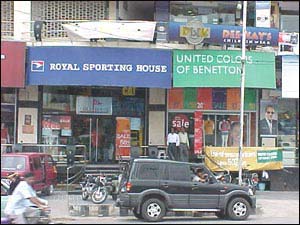 Spread over a very well-lit 1,200 square feet, this United Colors Of Benetton showroom is the only surviving one of its kind in the city. Even though it may not be half as plush or well-stocked as its cousins in the metros, no one's complaining. At least the city can brag about having one of these. Hallelujah!

This Italian brand has so much merchandise that it will take us forever to list them. But list we must. So here goes all of it. Trousers, capris, T-shirts, shirts, tops, spaghettis, swimwear, shades, wallets, handbags, purses, keychains, luggage bags, belts, shoes, sandals, toilet kits, slippers, hats, shorts, skirts, tracks, haversacks and knapsacks are all of them. Phew!

The men's line is extensive, with shirts in plain solid colors, checks, stripes and floral prints. Canvas and rubber footwear, rexine and leather wallets, linen drawstrings, cotton and lycra T-shirts in Johnny-neck collars, regular V-necks and round collars also adorn the place.

The women's line is mind-bogglingly vast, with T-shirts and tops in zany prints and a plethora of colors. The bottom wear consists of capris in cotton and lycra, linen drawstrings, Jeans in regular and faded denim, and tracks.

The bags and belts are some of the other things to swear by. And everytime you use them, you'll go, "How the **** did I pay so much for this?" Which brings us to the prices. The cheapest thing here is a keychain worth Rs. 199 and the dearest is a luggage bag that costs a whopping Rs. 5,000.

The kids' section consists of shirts, T-shirts, frocks, shorts, tracks, Jeans, capris, bags, hats and kurtas. The prices in this line differ according to the sizes (the one place where what you actually pay is proportionate to the amount of cloth you're buying), the lowest being Rs. 200, and the highest Rs. 1,399.

United Colors Of Benetton has three trial rooms, and a secret passageway leads you to the only bathroom there. On days that you are lucky, you might even know the right password (the manager's name) to enter it.

One very commendable thing about the place is that the people here take their job extremely seriously, and the kind of people that come here are also of the tight-lipped, grim-faced, serious shopper variety. Frivolity of any sort is highly frowned upon. So, happy shopping, and don't say we didn't warn you.