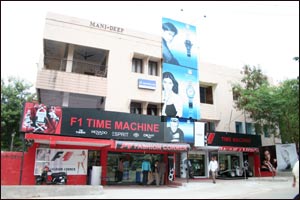 From outside, F1 Time Machine looks just like any other shop that you can walk into and claim attention as a prospective buyer. But your first step inside will remind you, especially if you are not Azharuddin or Fardeen, that time is certainly one precious commodity. It might invoke some feelings of guilt (if you have the dough to spend) and greed (if you don't), both having a direct if inverse correlation to your monthly salary cheque.

F1 Time Machine stores exclusive watches imported from Switzerland and the United States.

Some of the Swiss watches available are:

Espirit: Starting at Rs. 3,500
Pierre Cardin: Between Rs. 5,000 and Rs.12,000
Tommy Hilfiger: Between Rs. 4,000 and Rs.10,000
Baume Mercier: Between Rs. 70,000 and Rs. 22,00,000

Tag Heuer: Between Rs. 26,000 and Rs. 3,00,000
Tissot: Between Rs. 6,000 and Rs. 40,000
Gucci: Starting at Rs. 30,000
Movado: Between Rs. 30,000 and Rs. 3,00,000
Dior: Between Rs. 19,000 and Rs. 2,00,000
Rado: Between 18,000 and Rs. 80,000
Longines: Between Rs. 25,000 and Rs. 3,00,000
Frederique Constant (from Geneve): Between Rs. 23,000 and Rs. 65,000

Watches imported from the US include:

Fossil: priced between Rs. 5,100 and Rs. 12,000
DNKY: between Rs. 5,500 and Rs. 12,000

In addition to the above, F1 Time Machine is coming up with Vertu cell phones, set in white and yellow gold, and using precious stones for functional aspects. These phones are imported from Switzerland, and are priced Rs. 7,00,000 and above.

The decor of the store is striking, like its timepieces. With the furniture and glass cases provided by different brands, and comfortable chairs and sofas in red adding to the ambience, these time-keepers assure you a comfortable browsing. The staff is helpful and also knowledgeable, so being intimidated by the opulence or the guard should be the least of your worries.
EVENTS AT F1 TIME MACHINE
There are no events at F1 Time Machine scheduled currently.