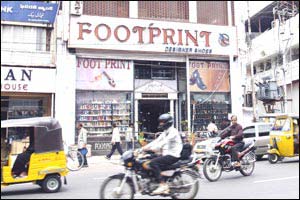 Ensconced in an imposing 2-storey building, Foot Print looks like a giant house, with inhabitants eager to shoo you inside. The interior is so laid out as to separate the area into well defined sections for men, women and kids. The ground floor is dedicated to the ladies, and has a charming collection of fancy and partywear shoes, priced between Rs. 300 and Rs. 2,000. The more fashionable shoes are from Agra and Mumbai, while the daily wear, between Rs. 150 and Rs. 1,500, is partly from Bangalore and partly Foot Print's own brand.

Up the winding staircase, you'll come across a man's world. With Lee Cooper, Kennedy, Footprint, Red Tape and Gunachi luring you, you might also take a look at more humble chappals (Kolhapuris), which are priced between Rs. 150 and Rs. 2,500, and sandals, between Rs. 200 and Rs. 2,500. Non-branded shoes, between Rs. 450 and Rs. 3,000, also maintain their share of the shelf-space.

Canvas shoes for kids, starting at Rs. 49, are available from Action Shoes and Lakhani, and there is also a large variety of fancy shoes for the tots. In addition to these, Foot Print also stocks ladies' purses, in the price range of Rs. 150 to Rs. 900.

The seating is comfortable, and staff accommodating, like the store's sofas. Though compatible with other big players in the shoe biz in terms of sheer numerics, Foot Print is scores above the rest where customer-care and humility count.