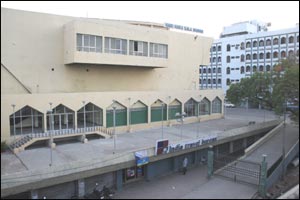 A somewhat dark and dingy auditorium that's probably most visited for magic shows, Hari Hara Kala Bhavan is one of the best examples of lots of space gone pathetically to waste. Neglected and unkempt, the auditorium has come a long way - in the wrong direction - from its glory days. We don't remember when those were, but they must have existed, since the place does have a hint of romance and knowing experience about it.

The center holds a few events a month, a lot of them award ceremonies and such. It has, however, seen a lot of cinema come and go. There was a French film festival screened here once, and children's film festivals are held from time to time. The hall is also used by cultural and religious societies who hold their annual shows here, whether it's a play (the Young Christian Society) or a musical by a neighbourhood Malayali association.

And then, of course, there are the magic shows. These are ever-popular with the cityfolk, and totally liven up the place. Thanks to the magician's unending supply of energy and ribbons, his untiring vocal chords, and our willingness to ignore the card up his sleeve and believe for a moment in the magic of magic.

As for the Bhavan, an infrastructural and spiritual facelift is urgently called for. There's no romance in noisomeness, and it is very difficult to ignore.
EVENTS AT HARI HARA KALA BHAVAN
There are no events at Hari Hara Kala Bhavan scheduled currently.