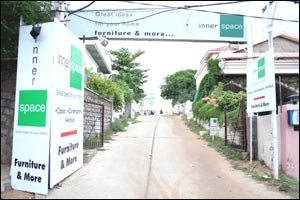 Street light hoardings greet you long before you come up to the showroom. The subtext on them and on the board at the entrance makes it amply clear that Inner Space is not into gastroentrology or meditation. This is all about the furniture. And what furniture. They bring to the fore many middle-class insecurities, especially ones involving money and the utter deficiency of it.

The enormous showroom covers three floors, and the size of the inventory justifies all that space. There is lots of variety in material used - teak, leatheroid, leather, metal and cane. All turned into nice sofas, credenzas, tables, chairs, dining tables, almirahs, the works.

Touted as AP's largest furniture showroom, Inner Space is a thoroughly pleasant-looking place to shop at. The range is decent enough, and the prices aren't unreasonable. And that's more important than being largest in the district, state, hemisphere, whatever.