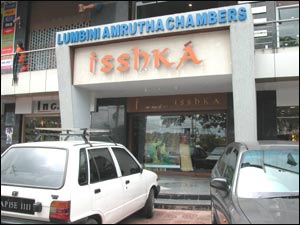 How do you sell a dupatta for twice the price of a lehenga, and still make people think that they are making a steal? Simple. Add a designer label to it.

And, these guys have not added one, or two, or three, or four. No, they sell collections of as many as twenty designers of the likes of Malakhas, Azara and Mayura Kumar from Delhi, and Kishore Ramani from Kolkata. There's also Neeta Bhargav, Monapalli and Raghavendra Rathore, though Anamika Khanna remains conspicuous by her absence. The saris and salwars, unstitched fabrics, and even the few ghagras that you will find here are all from the house of such biggies.

The stuff at Isshka is then expectedly divine. The most amazing ethnic wear that money can buy is right here. The prices are really on the higher side, but you won't be complaining about that for too long after you have strolled around the place.

The ensemble comprises of both Indian and Western wear. From ponchos, denim jackets and pants to kurtis and kurtas, the store is a haven for the fashion-oriented. Throw in a few accessories like handbags, jewelry, candle stands, photo frames etc., and great air-conditioning to go with it, and you have a place that almost has it all. Almost, because the variety ain't that great. Even so, it is much above the satisfactory marker. Besides, most people shopping here are looking for retail therapy more than anything else. That this place provides aplenty.

The wooden floor of Isshka adds to its somewhat laid back, somewhat chic charm. It may not be very big, but it has a lot of character. That probably explains the promos they get roped in for every now and then.

Located bang opposite the final destination, Isshka is a one-stop store for all those women who want their husband's money to meet with the same fate.