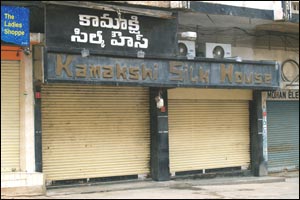 There are those among us who have forever cribbed over the immeasurable time units consumed by the fairer sex when it comes to getting dressed. Then there are the smarter ones among us who have observed the fruits of their patient wait with anything but complacency. When the women are finally through, it is more than worth it, especially when they do it the traditional way.

A shop primarily for wives and wives-to-be, Kamakshi Silk House stocks the most exclusive of Kanchi, Dharmavaram, Kothakota, Venkatagiri and printed saris. They are especially known for their pure Zari work. And the men would not be totally disappointed, either. They can choose from a wide range of dhotis, and kurta dress-material.

Besides the good air-conditioning, what gives you comfort is the ease with which you find a parking spot in the vicinity. Also, you don't have to pay for it. The best things in life are indeed free. The décor is all of wood, with lighting that soothes your senses.

So if you are looking for that one thing to add an extra zing to your sari collection, this is a good place to start looking.
EVENTS AT KAMAKSHI SILK HOUSE
There are no events at Kamakshi Silk House scheduled currently.