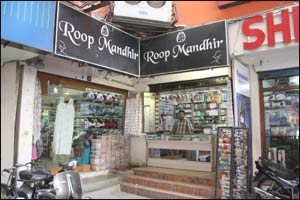 There's one store like Roop Mandir in every major shopping area, one that sells almost everything in the imported-odds-and-ends line. Roop Mandir specializes in ladies stuff, and there are very few things the store does not carry. And anything they don't stock is not even worth looking for. According to them, anyway.

If you have the patience of a hill, you will find some really good deals in here. Otherwise, you'll be put off by the smartass shopkeeper and never return. Ignore the man, however, and you'll be rewarded. Roop Mandir carries cosmetics in large economy sizes, and has an impressive range of phoren creams, lotions and sprays. Earrings, bindis, bangles, bracelets, stick-on tattoos, nose-rings and hair-clips are a specialty of the place, and you'll find everything from the glittery to the understated.

Apart from all of that - which usually takes a while to wade through - Roop Mandir also stocks underlinen for women. They're usually unbranded and available only in a limited number of sizes, but are super-plush and usually expensive.

Worth a look-see if you know exactly what you want, and don't mind sharing elbow space with around twenty browsing women.