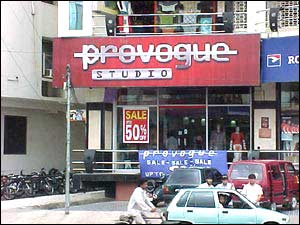 This store is what the city flocks to for its Provogue needs. Provogue needs! Har! I don't believe I just wrote that! The only thing worse than me writing this is that it is actually true.

Yes, Hyderabad does have some of those insufferable "I-will-wear-nothing-but-Provogue" varieties. And this little Mecca nestled in Nagarjuna Circle provides them with everything that Provogue manufactures.

To appease all these from Planet Snob, there is a wide range of trousers in polynosic, cotton, corduroy and linen in flat-fronted, straight and comfort fits priced between Rs. 1,295 and Rs. 1,495. Other bottom wear includes tracks, shorts, 3/4ths and linen drawstrings priced between Rs. 795 and Rs. 1,095.

Half-sleeved and full-sleeved shirts for club, casual and formal wear; T-shirts, spaghetti tops, backless tops, kurtis and kurtas in cotton; polynosic, linen, crushed cottons; and netted fabrics are among the other things available if you are willing to cough up between Rs. 395 and Rs. 1,395.

Provogue also retails Marco Ricci shoes which come for anything between Rs. 2,300 and Rs. 3,200. If you haven't already put your sleuthing skills to test, let us tell you explicitly - everything in this store is in the neighborhood of P-R-I-C-E-Y.

So, if your heart craves for some lighter pockets, befriend us! Or head this way. Although the first option is more gratifying.