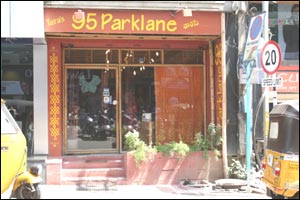 The very look of Tara's screams handloom, there's no way you can miss it. And most shoppers don't. What started out as something only regulars in and around the area knew about, now has visitors from all over the twin cities.

The exhibitions have helped. Almost every month, the store holds exhibitions of handlooms from different parts of the country: for e. g., kanta embroidery, Gadwals, Oriya print and Kanjeevarams. The regular fare of the place also includes a variety of handlooms and prints, not to mention the ever-present reams and reams of Mangalagiri cottons.

95 Parklane also stocks unstitched salwar kameez sets with embroidery, batik work and zari borders, costing anywhere upwards of Rs. 500. The Pochampally range is gorgeous, with some interesting contrast dupattas. Similarly, there is also a good sari collection at the store; the chettinads and South cottons are especially lovely. There are small collections of handicrafts and wooden or terracotta jewelry, and readymade tops, stitched by the store's full-time tailor.

So if you're going handloom, you can't not make a stop at 95 Parklane. It just wouldn't be wise.
EVENTS AT TARA'S 95 PARKLANE
There are no events at Tara's 95 Parklane scheduled currently.