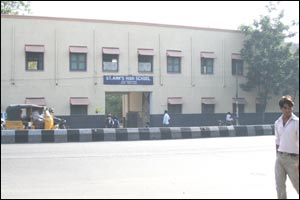 Maria keeps running away from her convent until the Mother Superior expels her. She joins the Von Trapp Family near Salzburg as a housekeeper. She sings and prances her way around the mansion straight into the heart of Baron Von Trapp. She also gets him to change his despotic ways as a father and saves the day for the family. Moral of the story: Convent Education Kicks Ass!

Kicking ass might not be the exact words used by the nuns of St. Ann's High School, but there is no denying one of Hyderabad's oldest convents their rightful place. Established at the turn of the 19th century, this is one the city's few ISCE schools. That they give an equal importance to sports as much as their academics is reflected in the grand Sports Day held every year. During inter-school competitions, the typical Russian-style march has won them many Best Marchpast trophies.

"Annites", as the students of St. Ann's are referred to, might make heads turn elsewhere, but inside the compound, the heads are better off looking down. Strict adherence to the rules is enforced under the watchful eyes of the Ladies In White. Indiscipline of any kind is nipped in the bud. So no latecomers, no absenteeism, no fancy rubber bands. And no nail polishes.

Well, we've said this is a convent. You wouldn't enter expecting Woodstock, would you?
LEAVE A COMMENT
fullhyd.com has 700,000+ monthly visits. Tell Hyderabad what you feel about St Ann's Convent High School!