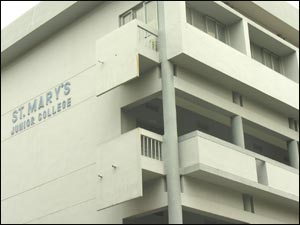 SMJC is one of the few colleges in the city with a campus. By campus we mean a place to play basketball. By campus we mean a place to loiter when the teachers have kicked you out of their classes. By campus we mean a place to steal a few romantic glances. By campus we mean a minimum of 800 square yards. By campus we mean place to move your rear around. It is not sad that more than 97% of all Hyderabadi junior colleges don't have a campus. It is a disaster!

St. Mary's stands out in this quagmire as one with a (duh!) playing ground. And it also helps if you are a college that was founded in 1983. St. Mary's is also one of the few places that have boys and girls making fashion statements, flaunting their attitude and spending Daddy's money all along the way. You've probably seen all this stuff in the movies, haven't you? But the part the movies missed out was that SMJC's strict rules about regularity and marks and the fact that it was a boy's college until 1999.

In the '80s and the first half of the '90s, St. Mary's used to the Hyderabad's no. 2 junior college behind Little Flower Junior College. For some reason, both colleges went co-ed and both then declined into "also-there"s from almost unassailable positions. Several students feel that LFJC's decline had to do with it being too strict about attendance, and other colleges, like Ratna, allowing students to miss Intermediate classes and prepare for EAMCET and the IIT-JEE on their own. St. Mary's still is a fairly big name, and it helps that it is located centrally, unlike LFJC which is at Uppal. Once you've lost your luster, it's not easy to make people come all the way to Uppal for you.

St. Mary's is an expensive college, and you find plenty of moneybags here. Still, it is probably one of the few school-level institutes worth calling a "college".
EVENTS AT ST MARY'S JUNIOR COLLEGE
There are no events at St Mary's Junior College scheduled currently.
LEAVE A COMMENT
fullhyd.com has 700,000+ monthly visits. Tell Hyderabad what you feel about St Mary's Junior College!