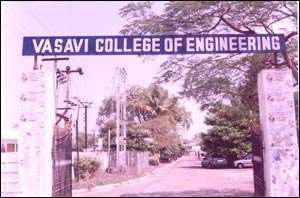 If not anything else, Vasavi has history on its side. Established way back in 1981, this is one of the twin cities' earliest private colleges. Many believe this to be the sole reason why students prefer Vasavi over other colleges. Let us not sugar-coat this academic system and say that an EAMCET ranker has a host of "promising options" ahead of him, but Vasavi College of Engineering does surely stands tall amongst others in its own way.

The college has four blocks apart from the canteen and the Departmental Workshops. Each block houses a department with the building named after prominent scientists. Plans are on to introduce two new Masters courses in Advanced Design & Manufacturing in Mechanical Engineering and Embedded Systems & VLSI Design in the ECE department from 2004 onwards.

One of the standards Vasavi has set is in grooming the co-curriculum and extra-curricular activites in the college. Almost every month, the students, with the help of the staff and the management, regularly hold seminars and conferences in the college. The students also come forward to keep their in-house clubs active. These include the SpeakEasy Club (for orators), Campfire (for writers), Kirdaars (for theatre-buffs) and Flamencoes (for music-lovers), and hold sessions on a monthly or weekly basis to nurture the innate talent amongst their members.

Speaking of extra-curricular activities, we must mention Vasavi's annual cultural festival - Euphoria. Every year during February-March, VCE throws its door open for 3 days of complete fun and entertainment. With celebrity performers like Sivamani, Parikrama, Euphoria and DJ Ryan performing at the college, Euphoria is quite the campus event of the year.

As an aside: on your way to the college, if you are hassled by a bus-full of students who are incessantly screaming "Coca-Cola, Pepsi... Vasavi Sexy," do forgive them. They are, after all, just being honest!
EVENTS AT VASAVI COLLEGE OF ENGINEERING
There are no events at Vasavi College Of Engineering scheduled currently.
LEAVE A COMMENT
fullhyd.com has 700,000+ monthly visits. Tell Hyderabad what you feel about Vasavi College Of Engineering!