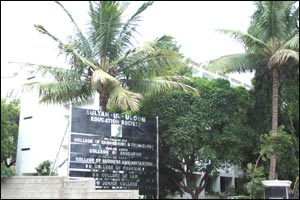 Muffakham Jah is named after the grandson of the seventh Nizam, and the college was established by the Sultan-Ul-Uloom Educational Society. But what makes MJ truly special is that it's one of those rare engineering colleges that is located in the same hemisphere as the rest of the city.

But that, of course, isn't the only thing MJ has going for it. The standard of education offered is very good, and all seven branches of study have been certified by the NBA (National Board of Accreditation, AICTE). Besides, Banjara Hills offers unlimited options to any self-respecting student looking to bunk classes.

The college has a fully loaded library with all the latest technical books and journals. The most notable features of the college are its excellent laboratories and workshops, which are especially useful for students of the Mechanical Engineering department. And it's general consensus that the faculty is very clued in and friendly.

The campus is a lovely place to hang out at, thanks to the profusion of green. The college has special grounds and courts for cricket, football, basketball and volleyball, and MJ sports teams score highly in the University level.

It is also said of MJ that many Hyderabadi male models emerge from these very grounds. Now that is the sort of impressive fact that will, unfortunately, never find its way into the college anthem. But your average MJite has more reasons than that to be proud. For starters, he doesn't have to travel across time-zones to get to college everyday.
LEAVE A COMMENT
fullhyd.com has 700,000+ monthly visits. Tell Hyderabad what you feel about Muffakham Jah College Of Engineering And Technology (MJET)!