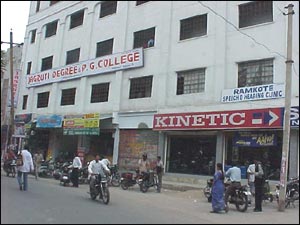 Jagruti College is a little difficult to spot in the narrow alleys of Narayanguda, and looks like another of the identity-less buildings that force the roads into awkward angles. However, the students make it unmistakable, chattering as they are in little groups beside the pav-bhaji stall outside.

Jagruti is one of the newer breeds of no-frills colleges in Hyderabad that put students through a rigorous academic routine that is all of what the college has to offer. Except some nominal extra-curricular activities like a whimsically conceptualized rangoli or skipping competitions for girls, there is not much else to distract students from studying. And they make doubly sure of that by locking the college building so students can't play hookie between 8:45am and 2:30pm. Well, here is where you go when you know that studying and only studying is your means to salvation.

But the students of Jagruti are, happily, not such evolved souls. They are spirited, and find their own means to socialize, have fun and do much more than studying. They stick around inside the college and confirm with the strict attendance rules, do the mandatory studying, and still have some good stories to tell you about college life.

Jagruti has three large buildings - the administrative building, the UG building and the PG building - that nestle close to each other so students can scamper to and fro between them for classes. The laboratories are more than adequate, and the computer lab has the Internet on all machines to boot.

In keeping with its study-oriented character, the college offers plenty of extension lectures, counselling sessions and all else that can add the extra edge to its academic programs.
LEAVE A COMMENT
fullhyd.com has 700,000+ monthly visits. Tell Hyderabad what you feel about Jagruthi Degree & P G College!