Gautami Junior College (Residential)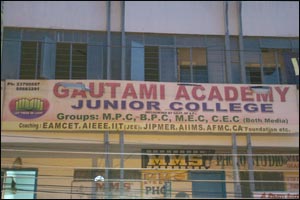 R K Lakshman's Common Man could take a few pointers here. Gautami is about strict discipline and learning. Oversights on the academic front are not spared, and every accomplishment is more than judiciously rewarded.

And, contrary to popular belief, Gautami isn't about only the hundrum of courses. No siree bob! It organises a host of competetive literary events such as quizzes, elocutions and declamations. It also encourages its students to participate in inter-collegiate competitions.

When it comes to common entrance tests or even sky-high marks in the Intermediate examinations, Gautami gets itself the best results. Thanks to the latter, it had among the largest number of students going to BITS, Pilani - one of the country's most prestigious engineering institutions - until BITS used Intermediate marks as a criterion. The students of Gautami also secure admissions into the best medical schools around the world. The teachers here are all extremely dedicated, and go out of their way to help students in grasping the concepts that are being taught.

Students go to Gautami at a time when they are seeking a pathfinder that will take them closer to the future they want for themselves, and Gautami is that pathfinder.
GAUTAMI JUNIOR COLLEGE (RESIDENTIAL) SNAPSHOT
Listed In

Address

Telephone

2370-2827, 2765-1035

3 users say this is wrong.

Email

Distance

Sub-Categories

Other Categories

Courses

Medium

Boys/Girls

Residential

Admission Criteria

Year Started

Timings

Weekend Timings

Closed On

Prices

Payment Option(s)

Closest Bus Stop

Closest MMTS Station

Add New Field:
EVENTS AT GAUTAMI JUNIOR COLLEGE (RESIDENTIAL)
There are no events at Gautami Junior College (Residential) scheduled currently.
LEAVE A COMMENT
fullhyd.com has 700,000+ monthly visits. Tell Hyderabad what you feel about Gautami Junior College (Residential)!