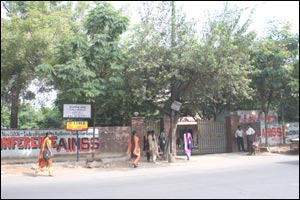 Reddy Women's College is really Rajabahadur Venkatrama Reddy College for Women. Its laid back summer-camp feel is probably the inheritance of 50 years, the time that has passed since the college was established in 1954. So are its anachronistically expansive premises, a luxury in today's time of fly-by-night colleges that spring up only in nooks and corners.

Speak to any of the girls sitting around on the bikes in the parking lot, and they will tell you they are having fun! Ask why, and they will say there is plenty to do and no obligation to do it. And it's great not to do it in the verdant greenery around.

The plenty to do is Volleyball, Cricket, Football, Badminton and tons of other outdoor games that the girls take part in vigorously, 'cause like in most co-ed colleges, there are no boys to monopolize the playing fields here. Then there are debating and elocutions, dancing and singing, and all else that mean college extra-curriculars. And finally, there are equally heavy academic schedules that roll on unrelentingly everyday.

But that's where Reddy's differs. In a good way if you ask me. There aren't any disciplining matrons chasing girls back into classes, or draconian attendance rules. You want your knowledge, come and get it yourself. Now that's a real liberated institution.

Reddy's offers the whole range of courses that any other UG college does, but in addition, it also has short courses that teach desktop publishing, handicrafts, screen printing, secretarial practices and Tally. Then they have UGC sponsored job-oriented courses in economics, tourism and Telugu translation. Such a wide range of things to learn is definitely a relief from colleges that teach only the skills that get paid for highest in the industry. Reddy's does well in not shoving its girls onto the bandwagon.

The apparently dominant language spoken on campus is Telugu. And the culture is that of a large university, where one is free to explore and discover, or sit back and think some more. If you are one of those students looking to relive the idyllically fertile learning environment of your school days, go to Reddy's. And if halfway, you suddenly decide to get focused and ambitious, stick around, and you still won't be disappointed.
EVENTS AT REDDY WOMEN'S COLLEGE
There are no events at Reddy Women's College scheduled currently.