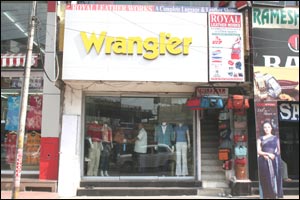 A poor man's alternative to Levi's is the perception of people when it comes to Wrangler. But alas, it's only a misconception. With a price tag of Rs. 699 upwards, it is certainly cheaper than Levi's, but the style and the variety is missing.

This store at Parklane stocks the Wrangler collection, but is limited to the bootcut versions. You have a wide array of colors to choose your Jeans from, but they come in only one particular design. So if you are hunting for the hip-hop anti-fits or the in vogue low-waist Jeans, you could give this store a skip. It also stocks Wrangler jackets, priced around Rs. 800; capris, also priced around Rs. 800; and a few T-shirts, priced around Rs. 300.

On the whole, the store is well-designed, and seems to stock almost the entire Limited collection that Wrangler has to offer. But if it is variety that you are looking for, it is amiss in plenty. It is worth a look, however, at any denim-wear shopping spree.