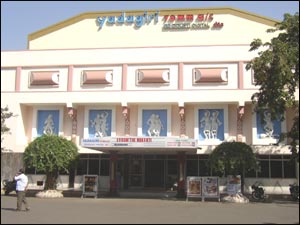 Hi! My name is Yadagiri. I'm extremely good-looking, spacious and clean. I'm the best theater in this part of the town. I'm equipped with the state-of-the-art DTS and my Xenon projection is spectacular. Oh, by the way, as you might've noticed, I'm extremely modest, too. People call me the Perfect Hall. Others call me that Shameless Liar.

Why should they treat me like this? Okay, maybe I'm not all that spacious. My parking lot is - only, the interiors are not. And cleanliness is a relative term. There are times when I'm called Mr. Spic And Span. But mostly by beings with four legs and a tail.

But I got size on my side. Although the other areas like legroom, lobbies and aisles are a letdown, as a whole I'm pretty big. It's not how you use it that matters - it is how big it is.

The sound system and A/C are really in top working condition. Can you help it if their best in itself is bad?

But because I play the latest Telugu movies, I'm usually full of life. Whatever people might say, I know I have the potential. Let's see if my caretakers will resolve their problems and take good care of me, because this way, I'm barely staying alive.
LEAVE A COMMENT
fullhyd.com has 700,000+ monthly visits. Tell Hyderabad what you feel about Yadagiri 70mm (Saidabad)!