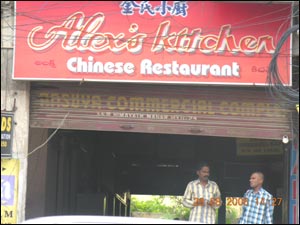 Student budgets, you're home. Alex's is most popular with this community because it's where you go when you're in the mood for Chinese, but are tired of eating at a bandi. Or when it's your friend's birthday and you're feeling generous, but you're also living off your parents. Or when it's dinner and a movie, and the movie was at IMax.

For all that talk of thrift, though, Alex's is no compromise. You'll find great food here, which is only made greater by the fact that you can comfortably afford it. A tiny place where everyone can hear everyone else's conversation, this restaurant is crowded as hell during peak-hours, and apart from students you'll find mostly office-goers and shoppers.

The specialties of the house include Chicken Corn and Hot 'N' Sour soups, vegetable spring-rolls, Chilli Chicken and Ginger Chicken for starters, and Schezwan Vegetables with fried rice for the main-course. If you're non-vegetarian, try the Diced Fish, Fish In Pickle Sauce, Pepper Chicken and Chicken Sweet 'N' Sour.

For dessert you'll have to visit Baskin Robbins across the street, or the little Scoops ice-cream parlour in the same complex. Alex's offers only soft drinks with meals. But you won't really mind. After all it seems a little ungrateful to crib when you paid for your dinner almost half of what you'd pay at a more posh joint. Who needs posh, anyway?