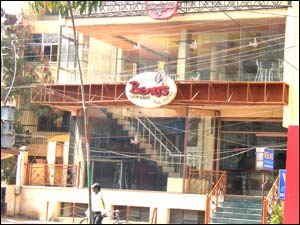 The comparisions with KFC are inevitable, but entirely misplaced. Yes, it is fried chicken, in all its splendid, deep-fried avatars, but the similarity ends there. Bronzy's has none of the energy that a regular KFC joint sees, and even though what it serves can be filed under Fast Food, it takes a good looong time getting to your table.

Bronzy's broaster chicken is batter-fried fillet using a special recipe and technique, and served either by itself or as a burger with fries on the side. Most people prefer the burger version, and the Combo meal with a side order of soft drink and fries will cost you around Rs. 90. The burger is quite good, but not consistently so. On the good days it's crisp, tangy and tender. But the portion-sizes are disappointing, given the prices. And the cole-slaw salad is extremely avoidable.

The Bronzy's outlet is a rather sprawling two-storeyed structure that doesn't see much action. Whether this is because people prefer to have their food delivered or because the place hasn't really caught on, is debatable. The painfully slow service makes a visit here a real test of patience. One thing's for sure, this is no KFC. But till the real deal comes along, we'll make do.
EVENTS AT BRONZY'S FRIED CHICKEN
There are no events at Bronzy's Fried Chicken scheduled currently.