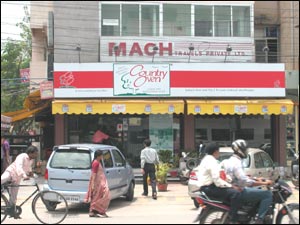 Talk about a success story. From being just a slightly bigger-than-usual bakery, Country Oven has turned into a hub for all the hungry stomachs of the Ameerpet area, whether they're craving pastries, ice-cream or even Chinese food. And talk about a hangout zone. Country Oven proves that old real-estate adage true - it's all about location, location, location.

There really is no better reason for the popularity of the place. The food is alright, but nothing to sing home about. There's nothing very trendy about Country Oven, either - it's slightly grimy and functional, with no frills other than a TV screen. But yes, it is fairly reasonable. And it does offer a good variety. And it is situated in one of city's most busy commercial, as well as residential, areas. Crowds pour in all day from the schools, offices and apartments nearby.

In the cheap-eats section, Country Oven has some good burgers. They're generous with the mayo and onions, so this is quite a heavy meal. A good thing at Rs. 42 for the Chicken Cheese. If you want something lighter try the Grilled Cheese Sandwich, but keep away from the Paneer Tikka Sandwich. The pizzas are decent, the veg. and the mushroom ones being the best.

Country Oven also serves full meals, but at restaurant rates. Here they have an extensive selection of Chinese and Tandoori. If you're eating on a budget, try the Chicken Fried Rice or Noodles - it isn't bad, and for around Rs. 35, it's a good meal. If you want accompaniments, you can choose anything from Chilli Mushrooms to Pepper Chicken.

Tandoori food, rotis and biryani are also served here, but they're all on the expensive side for a bakery. We wouldn't advise too much experimentation with dessert, and you'll be happy with the Black Forest or Pineapple pastries, or even the fruit cake. As mentioned earlier, nothing spectacular in this area. But the Softy ice-cream stall outside is, as usual, a big hit.

If you're hungry enough, you'll get your money's worth at Country Oven. Even so, we'd recommend you take away.
EVENTS AT COUNTRY OVEN (PIZZAS)
There are no events at Country Oven (Pizzas) scheduled currently.